GCIS Covid 19 Policy


1. During the Covid 19 crisis, GCIS will not meet with clients face to face. Telephone calls or Zoom online meetings will be used instead.

2. If a client needs to drop off evidence for analysis, any of the following procedures can be used:
a. USPS to my office address (8209 Roughrider Dr, Suite 100A, Windcrest, TX 78239)
b. GCIS Evidence Dropoff Procedures for small devices like cell phone, individual hard drives, USB devices, etc. (contact me for information)
c. Local courier services/FedEx/UPS for any size devices to include computers

3. Devices will be returned to the client using the same method unless arranged otherwise in advance.

4. GCIS will sanitize all devices using either an approved disinfectant solution and/or an Ultraviolet (UV) device for small items. This process will occur when the evidence is first received by GCIS and then prior to return to the owner.

5. Call 210-271-2999 for additional information and for courier/FedEx/UPS shipping locations.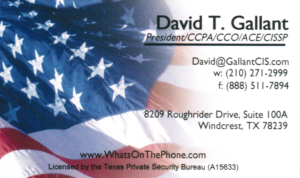 Mission:
Quality and timely computer, cell phone and mobile device forensics and e-discovery services.
Vision:
Gallant Computer Investigative Services, LLC, strives to provide the best and most responsive digital forensics, cell phone and cell tower analytics, and electronic discovery support to our clients.
---
Hiring an unlicensed digital forensics expert in the State of Texas is a crime.  This includes anyone who analyzes "computer-based data not available to the public."  
 https://statutes.capitol.texas.gov/Docs/OC/htm/OC.1702.htm
Licensed by the Texas Private Security Bureau (A15633)
---