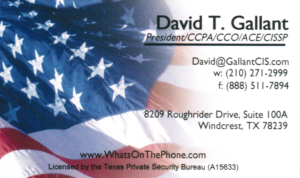 Click here to send an email to: David@GallantCIS.com
Mission
Quality and timely computer, cell phone and mobile device forensics and e-discovery services.
Vision
Gallant Computer Investigative Services, LLC, strives to provide the best and most responsive digital forensics, cell phone and cell tower analytics, and electronic discovery support to our clients.
---
Hiring an unlicensed digital forensics expert in the State of Texas is a crime.  This includes anyone who analyzes "computer-based data not available to the public."  
 https://statutes.capitol.texas.gov/Docs/OC/htm/OC.1702.htm
Licensed by the Texas Private Security Bureau (A15633)
---